Prepare for Cuteness!
Introducing the ultimate in comfort and convenience for dog owners - the Dog Pouch Human Sweatshirt from Made for Pawz!
This innovative sweater features a spacious front pouch designed specifically for your furry companion, allowing them to snuggle up close and stay warm and comfortable while you're out and about.
Machine Washable Fabric
Made from a soft, breathable fabric, this hoodie is perfect for everyday wear and will keep you and your pup cozy on even the coldest days. The pouch is lined with a soft, fleece material to keep your pup warm and comfortable, and features a drawstring top for easy access and secure closure.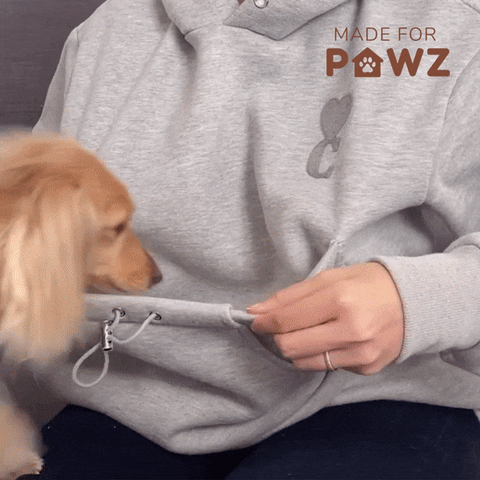 Convenient For everyday Wear
The sweater also features a convenient pocket for storing your phone, keys, and other essentials, so you can take your pup on the go without worrying about leaving anything behind. And with its stylish design and comfortable fit, this hoodie is the perfect accessory for any dog owner looking to stay connected and comfortable with their pup.
So why wait?
Get your Dog Pouch Human Sweater from Made for Pawz today and experience the ultimate in comfort and convenience for you and your furry best friend!
Materials
Our Made For Pawz products are made to last. We use the some of the best manufacturing and highest quality materials on the market to not only ensure comfort but longevitiy with all our products.
Shipping & Returns
Due to extremely high demand, orders will be packaged and shipped within 5 business days. Express shipping options are available for faster delivery at checkout. We apologies for any inconvenience.
Care Instructions
All our apparel and materials are machine washable.
Machine washable components of our calming bed allow for quick and easy care as well as keeping your pooch enjoying clean and fresh sheets (you know how good that feels)
We do not recommend washing the inner inserts, if necessary hand wash only.